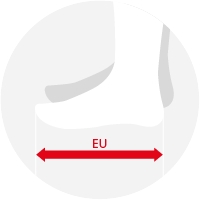 Il numero di piede è quello solitamente usato, fare riferimento alle misure europee.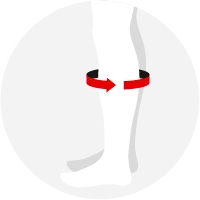 Stando in piedi, misurare la circonferenza del polpaccio nel punto più largo mantenendo il metro in posizione orizzontale e la tensione né stretta né larga.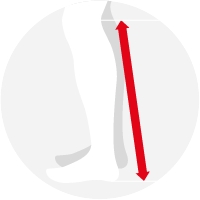 In standing position with the leg straight, measure the height of the boot "H" from the back knee crease to the floor. To this measurement you must add 0,5 cm to maximum 1 cm as the boot will drop after few rides.
Riding boots size reference
| | | |
| --- | --- | --- |
| Size | Height | Calf |
| 34 XS/-1 | 39 | 28,0/30,1 |
| 34 S/-1 | 39 | 30,2/32,3 |
| 34 M/-1 | 39 | 32,4/34,5 |
| 34 L/-1 | 39 | 34,6/36,8 |
| 34 XS/0 | 41 | 28,0/30,1 |
| 34 S/0 | 41 | 30,2/32,3 |
| 34 M/0 | 41 | 32,4/34,5 |
| 34 L/0 | 41 | 34,6/36,8 |
| 34 XS/+1 | 43 | 28,0/30,1 |
| 34 S/+1 | 43 | 30,2/32,3 |
| 34 M/+1 | 43 | 32,4/34,5 |
| 34 L/+1 | 43 | 34,6/36,8 |
| 34 XS/+2 | 45 | 28,0/30,1 |
| 34 S/+2 | 45 | 30,2/32,3 |
| 34 M/+2 | 45 | 32,4/34,5 |
| 34 L/+2 | 45 | 34,6/36,8 |
EU
UK
US
MAN
WOMAN
MAN
WOMAN
35
3
3
3,5
5
36
4
4
4,5
6
37
4,5
4,5
5
6,5
38
5,5
5,5
6
7,5
39
6
6
6,5
8
40
6,5
7
7,5
9
41
7
8
8
9,5
42
8
8
9,5
10
43
9
9
10
10,5
44
8,5
-
10,5
-
45
10,5
-
11,5
-
Height person/leg
Calf circ.
from 1.40 to 1.50
from 1.51 to 1.60 – leg 41 / 43,5

| | | | | |
| --- | --- | --- | --- | --- |
| XS | S | M | L | XL |
| 27,5/30,5 | 31,3/34,3 | 34,4/37,4 | 37,5/40,4 | 40,5/43,5 |

from 1.61 to 1.70 – leg 44 / 46,5

| | | | | |
| --- | --- | --- | --- | --- |
| XS | S | M | L | XL |
| 28,2/31,2 | 31,3/34,3 | 34,4/37,4 | 37,5/40,4 | 40,5/43,5 |

from 1.71 to 1.80 – leg 47 / 49,5

| | | | | |
| --- | --- | --- | --- | --- |
| XS + | S + | M + | L + | XL + |
| 28,2 31,2 | 31,3 34,3 | 34,4 37,4 | 37,5 40,4 | 40,5 43,5 |

from 1.81 to 1.90 – leg 50 / 52,5

| | | | | |
| --- | --- | --- | --- | --- |
| XS ++ | S ++ | M ++ | L ++ | XL ++ |
| 27,5/30,5 | 31,3/34,3 | 34,4/37,4 | 37,5/40,4 | 40,5/43,5 |
Foot size
Carf height
34

| | |
| --- | --- |
| Slim | Regular |
| Slim +1 | Regular +1 |

35

| | |
| --- | --- |
| Slim | Regular |
| Slim +1 | Regular +1 |

36

| | |
| --- | --- |
| Slim | Regular |
| Slim +1 | Regular +1 |

37

| | |
| --- | --- |
| Slim | Regular |
| Slim +1 | Regular +1 |

38

| | |
| --- | --- |
| Slim | Regular |
| Slim +1 | Regular +1 |

39

| | |
| --- | --- |
| Slim | Regular |
| Slim +1 | Regular +1 |

40

| | |
| --- | --- |
| Slim | Regular |
| Slim +1 | Regular +1 |

41

| | |
| --- | --- |
| Slim | Regular |
| Slim +1 | Regular +1 |

42

| | |
| --- | --- |
| Slim | Regular |
| Slim +1 | Regular +1 |

43

| | |
| --- | --- |
| Slim | Regular |
| Slim +1 | Regular +1 |

44

| | |
| --- | --- |
| Slim | Regular |
| Slim +1 | Regular +1 |

45

| | |
| --- | --- |
| Slim | Regular |
| Slim +1 | Regular +1 |

46

| | |
| --- | --- |
| Slim | Regular |
| Slim +1 | Regular +1 |
| | | | | | | |
| --- | --- | --- | --- | --- | --- | --- |
| | XS | S | M | L | XL | XXL |
| Chest | 95 | 100 | 105 | 110 | 115 | 120 |
| Waist | 75 | 80 | 85 | 90 | 95 | 105 |
| | | | | | | | | |
| --- | --- | --- | --- | --- | --- | --- | --- | --- |
| EU | 32 | 34 | 36 | 38 | 40 | 42 | 44 | 46 |
| ALF | XXS | XS | S | M | M | L | XL | XXL |
| UK | 6 | 8 | 10 | 12 | 12 | 14 | 16 | 18 |
| EGO 7 IT | 36 | 38 | 40 | 42 | 44 | 46 | 48 | 50 |